A name, a project, the farsighted approach that characterises not only those words but also the practical nature of the project's work. 'React for Future' is a couple of friends, Gerardo Nardiello and Marcello Reina, who, a year and a half ago, put their skills at the mercy of a worthy cause: to create an artistic community of sustainability for which plastic is not a waste but a resource. During Milan Design Week, despite their busy schedules, they found a moment to tell us their story.
"React for Future was born as something impactful, something that wants to give a signal and trigger an action, where 'Re' stands for recycling and 'Act' echoes the UN initiative, ActNow", aimed at encouraging a more sustainable lifestyle, explains Gerardo Nardiello, who came up with the idea three years ago. "'For Future' is about changing the game by looking to the future.", he concludes. Gerardo and Marcello went from idea to deed about a year and a half ago, with the intention of providing alternative answers to two problems: waste perception and management. Gerardo points out that "What is of no value to someone, can be a resource for us and therefore it makes no sense to throw it away or incinerate it.", then continues by delivering some estimates: "According to the OECD, only 15% of the world's waste is recycled, with devastating consequences for the environment, see the plastic islands.". The intention is therefore to create a movement that will break this vicious circle of laxity and raise people's awareness of the importance of going beyond their perception of reality: "Even if they see nothing in it", that 'waste' has "value for us and could reduce as much as possible the flow of materials with intrinsic value that would go to waste."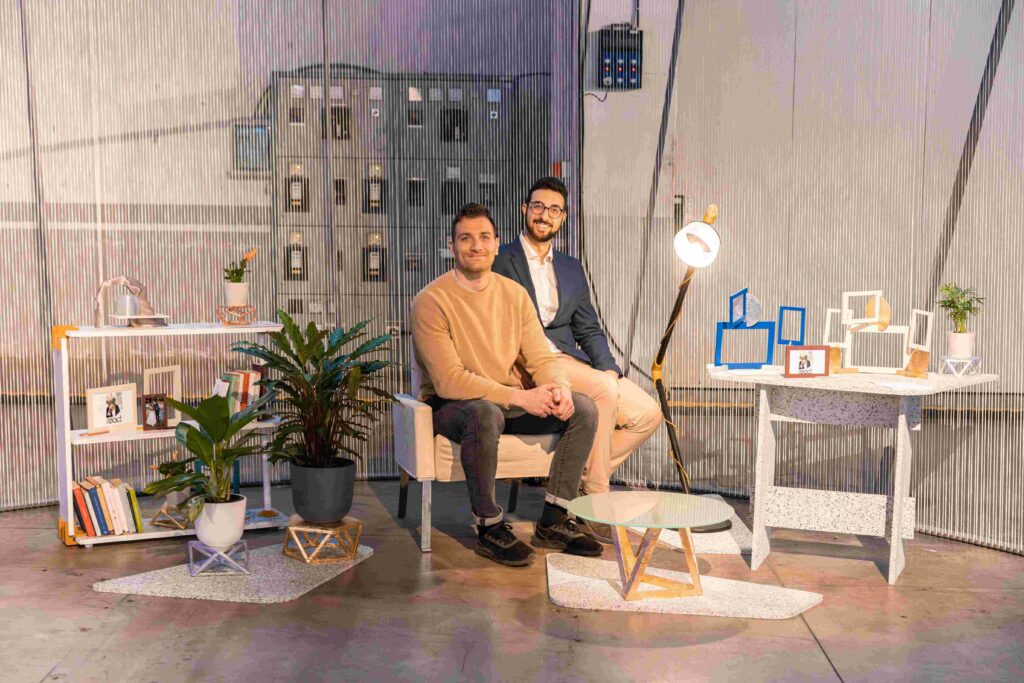 The "material with an intrinsic value" chosen by React for Future is plastic "which is the most despised of all", says Gerardo, establishing how from such a loathed waste "a design product can be born, in our case a furnishing complement, completely customisable" and pleasing to the eye, which in turn is recyclable, given the choice of using only one type of plastic per product. In doing so, React for Future created a new paradigm following a series of market surveys that, while revealing a catastrophic situation in Italy in the context of plastic recycling — according to Plastics Europe, only ⅓ of plastic waste is recycled — at the same time they provided a positive outlook in the reception of the sustainability Made in Italy. "We recycle plastic waste by getting support from other companies because we are obviously quite small, we need know-how but we also need substantial investments.", says Gerardo. Then, "We create plastic filaments with 3D printers but we are also moving towards the use of moulders", where the reference sector, that of design, is quite mature and proposing something artistic from waste is an innovative idea, a breath of fresh air, he continues. With these premises and following their victory in a competition promoted by the platform Isola Design, the guys from React for Future were also able to exhibit at the Milan Design Week for which they designed a living room corner which included a bookcase, floor lamp, coffee table, vases, photo and candle holder, in an upcycle perspective: "We did some hand gilding with gold leaf and water-based resins to maximise our message even more, that is, emphasise the material by giving it a new value.". The people who approached the React for Future corner were involved in an immersive experience that left them positively surprised at the uniqueness with which plastic can be reused.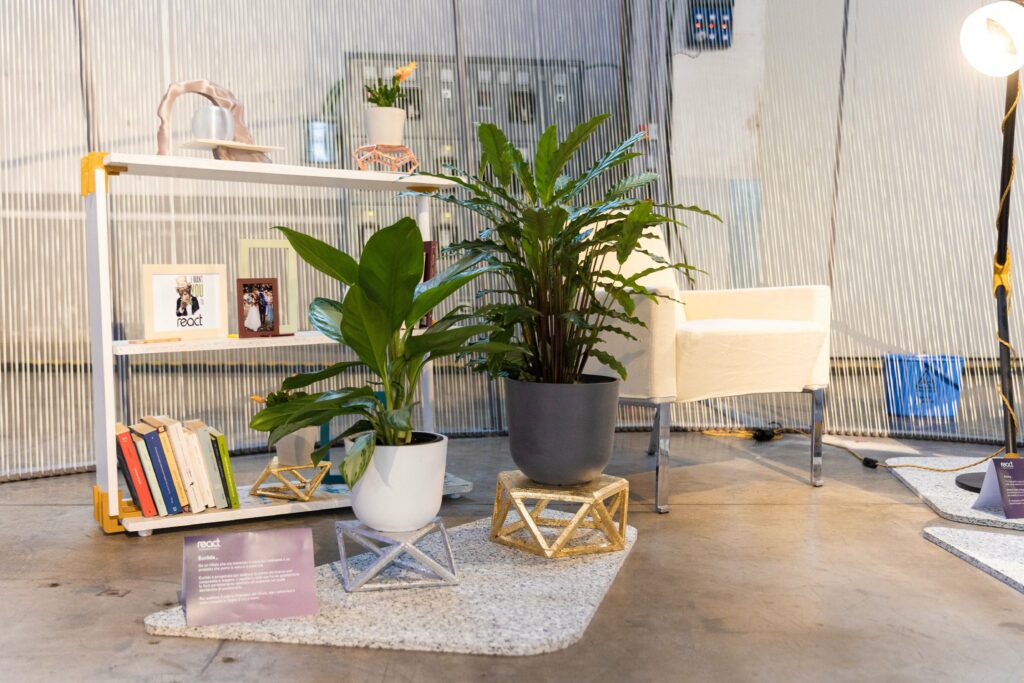 React for Future also operates a convergence between collaboration and innovation: "The team is made up of two young people, but there are many others who support us with suggestions and renewed creativity" in order to create a kind of sustainability art community open to all young designers over 18 who want to embark on this kind of project.
© 2022. React for Future. All rights reserved.