You may have felt fragile and powerless in the midst of a climate emergency. ActNow is here to alleviate these feelings: a campaign promoted by the United Nations that places individuals and their potential to change things at the centre of the sustainable revolution, without leaving them alone.
"You're not a drop in the ocean, you're the entire ocean in a drop", wrote the 13th-century Persian poet Rumi. A sentence that, in its simplicity, stands as a cornerstone of the sustainable revolution, concealing an important truth, more relevant than ever. In our own small way we can achieve great things; we are not supposed to be at the mercy of the world's greatness, but the greatness of the world with its infinite possibilities resides in each of us.
Since every single contribution is a step forward in the protection of the community and the Earth, there is no longer any excuse for not acting in respect of a more sustainable lifestyle. Particularly when technology supports this poetics of possibility, transforming it from a vulnerable "blah, blah, blah" into something more concrete, albeit simple.
"AWorld in support of ActNow" is a smartphone app that answers the questions we usually ask ourselves when the desire to do something becomes overwhelming: What can I do? Where do I start? As an official tool in support of the "ActNow" campaign, it motivates and concretely guides individual action as the core of climate change subversion, paving the way towards sustainability. How?
Based on a strategic combination between digital and environmental communication, "AWorld in support of ActNow" reflects the increasingly strong will to aim at society's behaviour change by targeting individual habits; then, it creates a community of changemakers who finally come together to intensify the reach of their individual actions, in the context of various campaigns.
Lastly, the app—designed to be structured around the technique of gamification, which some research suggests can influence the motivation, participation, and engagement of participants—involves the individual to keep track of its sustainable deeds according to a system of rewards, peculiar to video games. This would also allow one to measure one's individual, effective impact on the Planet and thus earn points.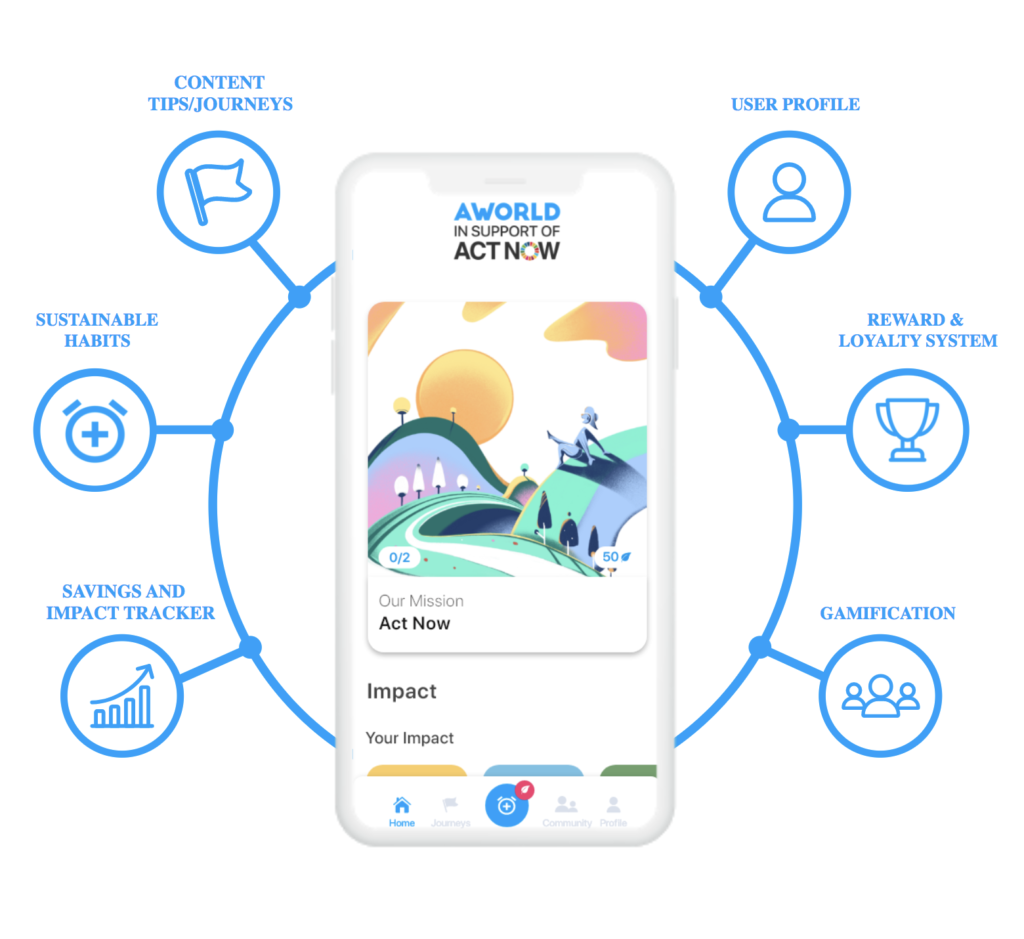 Committing to becoming a sustainability hero is at everyone's fingertips, or rather, within the reach of everyone's smartphone. The actions are as simple as eating a vegetarian meal, the approach as fun as trying out local products and the interface as appealing as taking the train instead of the plane.
Learn more about ActNow Campaign | Download AWorld in support of ActNow App