The project "Meno 100 chili" starts from the creation of a theatrical play. Then, Roberto Cavallo decided to write a book about the waste of food we all produce at home and at work, everyday. From these ideas, the project evolved into a documentary.
The Movie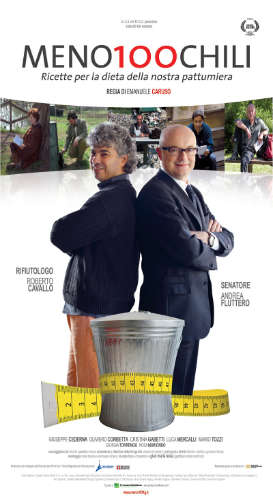 This documentary is a double journey from North to South in Italy. Roberto Cavallo leads the senator Andrea Fluttero in this voyage in order to show him how is possible to reach big economic and social results by reducing the amount of waste. In Italy, those good practices are often implemented.
Re-usable diapers, recycling processes of plastic and paper, domestic and industrial composting, bulk water, milk, wine and detergents distribution.
Zero Waste politics are not that far away from us!
Feel free to contact segreteria@envi.info if you are interested in our DVD – English subtitles are available!
Price: 8 € + 6,30 delivery costs
Bigger order:
from 2 to 10 DVDs: 6 €/each (+d.c.)
more than 10 DVDs: 5€ /each (+d.c.)