EUROPEANMOBILITYWEEK is an awareness-raising campaign, promoted by the European Commission with the aim to encourage behavioural change in favour of active mobility, public transport, and cleaner, more sustainable transport solutions.
Each year, from 16th to 22nd September (culminating in the popular Car-Free Day), local authorities get inspired to try innovative planning measures, by boosting new infrastructure and technologies.
«EUROPEANMOBILITYWEEK is the perfect opportunity to test out new forms of clean mobility, take stock of current transport challenges, and progress towards more sustainable mobility for Europe».
Also, businesses, NGOs, schools, and other stakeholders, can get involved in the campaign. In general, a mobility action can be organised and registered at any time of the year.
This year's theme is about "Better Connections" – people, places, packages, planning and policy are the five fundamental pillars that build up an active mobility. By fostering synergies between actors and spaces that are offering expertise, creativity, and dedication – this environmental communication campaign shows how change is possible.
On the website, users can find all the useful information and links: how to take part and participate, the impact of the campaign and the widespread voice of this message all around Europe. Moreover, the action developers can also participate to the EUROPEANMOBILITYWEEK Award (1st-31st October).
In fact, the European Commission seeks to recognise local authorities and organisations who have demonstrated excellence in the areas of sustainable urban mobility awareness-raising and sustainable urban mobility planning. Award winner are announced annually at the ceremony, which is held in Brussels in the spring.
We are reaching out to you from Italy, where 114 mobility actions are registered. This means that at this very moment a lot of activities are planned and carried on throughout the Italian "boot".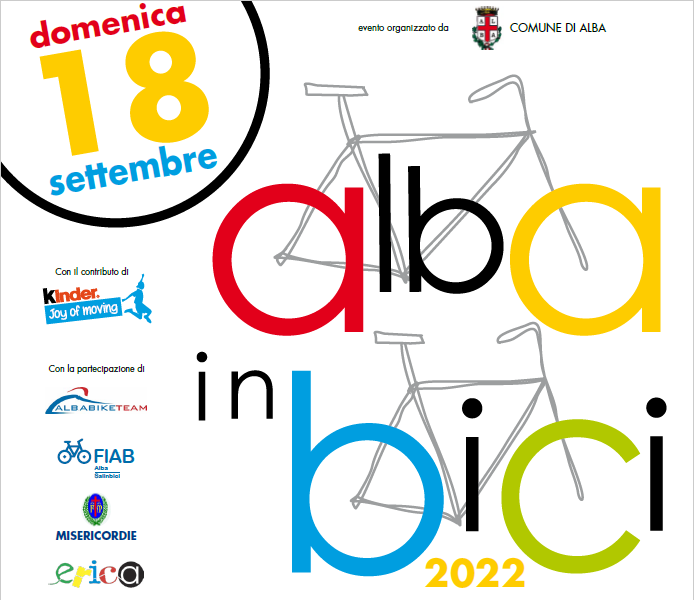 For instance, in Alba (Piedmont), this morning the Sustainable Urban Mobility Plan is going to be presented to all the stakeholders who took part to the roundtables and workshops. On Sunday 18th September, the Municipality has also organised a bike tour to encourage the citizens to enjoy the town in a collective manifestation supporting a mobility action.
Finally, from 3rd to 15th October, the Administration has decided to guarantee free bus tickets, so that people may experience the benefits of local public transports to reach work, schools, and leisure activities spots.
These events are organised by the Municipality of Alba, with the support of Kinder Joy of moving and in partnership with Alba Bike Team, Fiab Alba, Misericordia Santa Chiara, and ERICA Soc. Coop.