The Fashion Revolution Week is the annual campaign organized by the global movement "Fashion Revolution" which gathers activists from the civil society. Designers, academics, writers, business leaders, policymakers, brands, retailers, marketers, producers, makers, workers, and fashion lovers take part to this seven-day long action in order to raise awareness on a sustainable fashion industry.
Founded by Carry Somers and Orsola de Castro in the wake of the Rana Plaza disaster of 24th April 2013, when the building hosting garment workers in Bangladesh collapsed during an avoidable accident: more than 1,100 people died and another 2,500 were injured. Fashion Revolution aims to build "a global fashion industry that conserves and restores the environment and values people over growth and profit". The movement is focused on many issues, such as the promotion of safe and dignified working conditions and living wages, the end to human and environmental exploitation, a more equal balance of power, a culture of transparency and accountability across the value chain and eventually to a circular economy approach.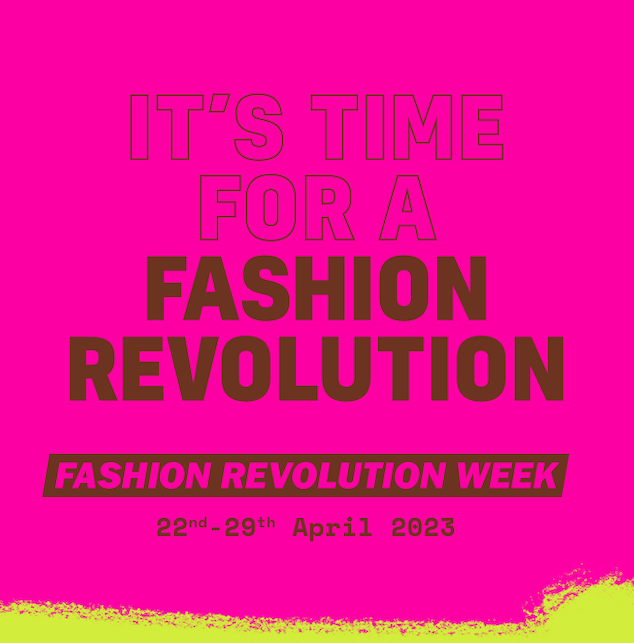 Rana Plaza was just one of the garment factory disasters occured in the last years, symptom of the intense pressures felt by producer countries worldwide. The tragedy exposed the widespread lack of transparency across global fashion supply chains, and how a lack of visibility can ultimately cost lives. Without transparency, issues remain hidden and unresolved at their roots.  
It is not by coincidence that within the global fashion industry garment worker wages are maintained artificially low and that brands continue to source from regions where for workers it is impossible, difficult and unsafe to form trade unions and to bargain for their rights. The global fashion industry has persistently relied on voluntary commitments which have long preserved the status quo. Living wages, freedom of association, collective bargaining, safety and traceability are still missing in these areas also because of the poor progress on transparency.
Fashion Revolution Week 2023 marks, indeed, 10 years since the Rana Plaza tragedy and especially for this Fashion Revolution decided to focus on its 10 points Manifesto, building block for the global network of "Fashion Revolutionaries" spread in more than 75 countries. The aim of the campaign is to bring together the global community in order to find out innovative ways to communicate each manifesto point. From supply chain transparency to living wages, from textile waste management to cultural appropriation, from freedom of association to biodiversity with the purpose of sharing solutions to the most pressing social and environmental problems.
Over the past ten years, the noise around sustainable fashion has only got louder. But meanwhile, real progress is too slow in the context of the climate crisis and rising social injustice. That's why we're making Fashion Revolution Week 2023 an action-packed and future-focused campaign that amplifies solutions from historically overlooked places. In our process, we are led by the plurality and diversity of our global Network, passing the mic to Fashion Revolutionaries from around the world

Fashion Revolution
Indeed, as claimed by Fashion Revolution, fashion industry has a colossal negative impact, but on the other hand it represents a potential force for change, especially when it comes to social and environmental matters.
Cover Ph. Fashion Revolution