In the last few weeks, the news in Italy (and all over the world) have started to be focused on causes and problems due to drought. According to experts, in fact, this will be the summer in which we will really experience and, thus, realize the full scale of climate change.
Given the magnitude of the problem, various advertisements and campaigns have started to tackle the phenomena from different points of view. Among these, Discover Droughtland has really caught my attention!
The campaign describes the "ordinary" life of a country called Droughtland in which, the few people that still live there explain how to adapt to this new normality. In their website we read:
"Rich history, lost culture and nature, dry cuisine, and very few people — all packed into one rainless paradise. Droughtland is a country where severe drought (and the missed actions from its citizens and government to mitigate and prepare for it early) has impacted all aspects of life, pushing its people to live… differently".
The way in which this campaign is presented is really intense and induces the audience to empathize with the inhabitants of Droughtland, which are represented as typical characters we can easily find in every town (the mayor, the doctor, the farmer, the cook, etc.) and expose the daily problems living in Droughtland.
The invitation to visit the country, then, seems to be an omen of what awaits all of us in the future: "In Droughtland, the old meets the new, with nostalgic reminders of how the country used to be before drought in every corner, as well as people living in unique, new ways. That makes it a "must-see" destination for curious souls, and brave (really brave!) hearts. Do you have what it takes to live here?!"
Finally, the message shared by Discover Droughtland is full of meaning, especially given the worldwide scale of the draught phenomenon and should encourage thoughts at different levels of society.
Individual actions, in fact, have high significance to fight this battle and we all should implement them as a praxis. However, they have little impact if not supported with substantial reforms in politics.
For instance, it is estimated that, in Italy 42% of water waste is caused by a crumbling water network. In addition, despite having described it as one of the most polluting and water intense sectors, the European Union has assigned 32% of its entire budget to the promotion of meat and dairy products, instead of more sustainable plant-based alternatives.
For this reason, we must without any doubt start to reduce our personal water consumption, while adopting a more sustainable lifestyle (starting from our diets, that are those that impact the most), and it is even more important to ask for concrete environmental policies.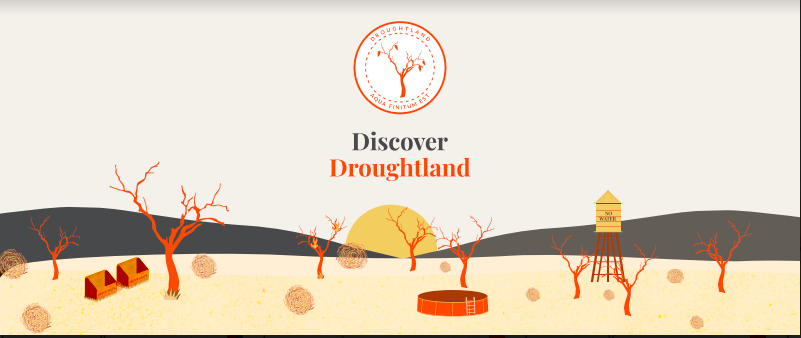 A UNCCD (United Nations Convention to Combat Desertification) campaign.
Follow them on Instagram | Twitter