Launched in 2020 by a team of Italian and Dutch young people, Renoon is a start-up that aims to make the fashion industry transparent, by bringing together brands, rental platforms, marketplaces, and products that respect the attributes of sustainability, defined by a specific framework.
How does it work?
Renoon is an independent platform that allows companies to verify their information and process it. It provides them with the tools to assess their transparency and sustainability. The criteria for a product to be considered ecological, and thus, to be included on Renoon's search engine, are the following:
transparency;
product sustainability (materials, composition, certifications, and product processes are assessed);
brand sustainability (information gathered from the brand itself, from secondary websites through which the products are sold, and from other organizations, certifications, manufactures).
Renoon operates as an informative and educational search engine, offering tools such as the sustainability glossary, to raise awareness and share its values with the community. Once the garments are selected, Renoon redirect the user to the marketplace or rental platform where the purchase can be finalized.
The platform has a high degree of personalization of the search experience, thanks to algorithms that allow the user to choose the category of main interest. There are 5 areas of the Sustainable Development Goals (SDGs) selected on the app:
Environmental protection;
Human well-being;
Animal Ethics;
Innovation and Tech;
Modern consumption.
The user is then able to prioritize companies that care about environmental impact rather than workers' rights or the treatment of animals. Renoon thus offers a unique shopping experience, enhancing not only the different styles but also the needs of each user.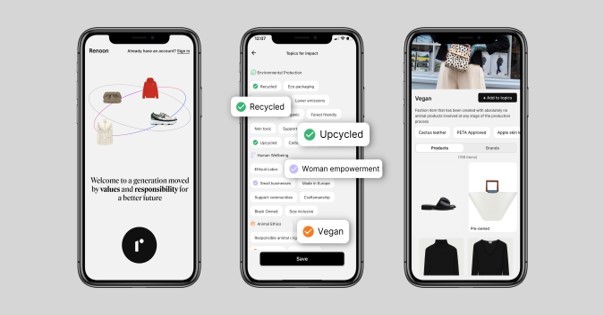 The platform has got more than 1 million products and 200 partner brands, all active in the sustainability field.
In addition, a "advocates" programme has been launched, with the aim to give to all users free access to public profiles of prominent figures in the world of sustainable fashion and get inspired.
As we strive for sustainable production and consumption, this business model turns out to be successful as more and more people are demanding that "sustainability information should be as easy to find as the colour or price of products".
People have the right to get verified and transparent information from companies about the impact and the origin of the products they buy. Thanks to Renoon, they can be part of this transformation with their choices and opinions.
More information: website | article