"The Impossibilities of the Circular Economy" is a comic published and funded by 360 Dialogues. Based on the 5th Factor X publication from the Federal Environment Agency, it is edited by Henry Lehmann and Christoph Hinske, illustrated by Virpi Oinonen.
«The 5th Factor X book examines what the promise of an endless circle can and cannot deliver. Hence, it provides a solid starting point to advance circular approaches to our economies (including industrial and social processes) at a more fundamental level».
The comic condensates the key ideas of the book using visual representations which help the reader understand the possibilities and the solutions for a more sustainable economy. Circularity is a "hot topic", a lure perspective for activists and enthusiasts, but there are some concerns that need to be dealt first.
The graphic novel expresses a dimension that is often difficult to communicate: that is, the complexity. We all know the Planet is facing issues and changes, mainly caused by an unsustainable growth system, but we cannot hide our heads in the sand: there is no simplistic one-shot solution to cope with all the ecological matters.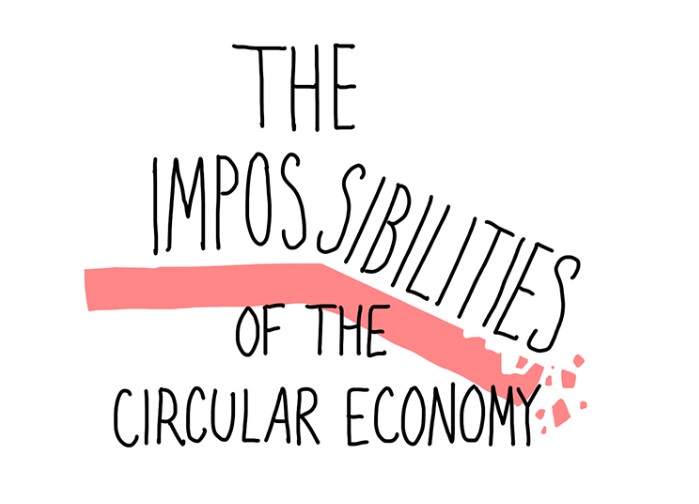 The Earth hosts different societies, political structures, and beliefs. This density of realities needs to be overviewed with a multidisciplinary touch to better implement circular strategies. Virpi Oinonen welcomes the challenge:
«From an artist's/storyteller's point of view the challenge was that the comic is based on a collection of 25+ academic articles looking at circular economy discussion from wildly different angles: from materials science to sociology».
From a communicative point of view, the cartoons can be picked as stand alone illustrations and shared on social media, since all the contents provide an interpretation of this complexity. The (im)possibilities of circular economy are not used as a way to give up on the idea, but as a call to examine all the facets.
Thus, the comic is the translation of a book which aims to empower actors across sectors and EU member countries to transition from existing linear models of value capture and expression to more systemic-circular solutions.
A communication tool and product that has already been reproduced in Italian, thanks to Transition Italia – an organization that works towards promoting community-based sustainability initiatives in the country, and part of the global movement Transition Network. It can be easily translated in different languages and understood by multiple targets, so the invitation is to spread the voice and share "The Impossibilities of the Circular Economy" all around the world.