Atmospheric carbon dioxide concentrations reached 422 ppm between May and June of this year – 142 ppm above pre-industrial levels – and even in Europe we begin to see the devastating impacts of climate change. The IPCC Sixth Assessment Report tells us that, to stay within the goal of the Paris Agreement, emissions must peak in 2025 and be reduced by over 40% before the end of this decade.
So far, the efforts of governments and the private sector have fallen short and actions need to increase in ambition and speed in order to meet these targets. A survey published last year by the journal Nature – to which 40% of the IPCC authors responded – showed that leading climate scientists are sceptical on whether we will reach these targets, but are still hopeful for the future and are willing to engage in advocacy.
Hundreds of scientists have organised and engaged in demonstrations, activism and civil disobedience – joining groups such as Scientist Rebellion, Scientists for Extinction Rebellion and Scientists For Future. Scientist Rebellion has organised, together with other environmental groups, the Unite Against Climate Failure campaign, beginning last weekend in Germany and continuing all the way through to COP27 in order to push the government to accept their three demands: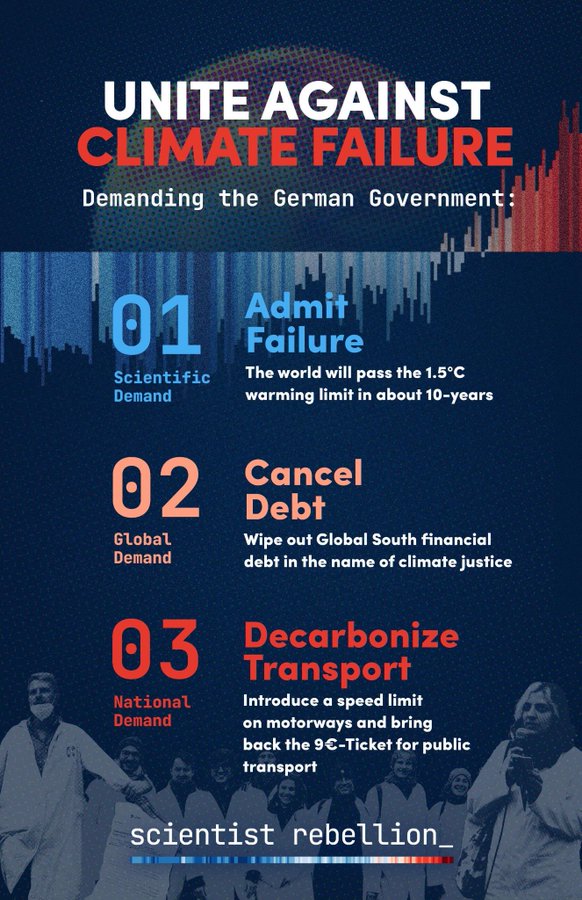 Why is now the time for scientists to join the climate fight? In their words:
As scientists, we have tried writing reports and giving presentations about the climate and ecological crisis to those in power. We must now have the humility to accept these attempts have not worked. Now is the time for us to take action, so that we show how seriously we take our warnings.
The science supports their engagement! A recent article published in Nature elucidates the reasons why scientist engagement in climate activism is not only justified but crucial for the successful pressuring of governments into action. Meanwhile, the IPCC report tells us that actions from environmental and social groups have persuaded lawmakers to introduce more ambitious climate policies. But is this helping us get anywhere with our climate targets? Absolutely. A systematic review from this year shows that social movements can contribute to staying within the climate targets of the Paris Agreement, both directly and indirectly.
Scientists are first and foremost citizens like any other, doing what it takes to fight for our future. As they sit down and say enough is enough, the world is having to sit up and take notice.