AICA – Association Internationale pour la Communication Environnementale est une association libre qui est née en 2003 à Alba, Piémont.
AICA est un projet culturel qui entend connaitre, étudier et promouvoir les actions de communication environnementale au niveau national et international. Elle est constituée par des associés fondateurs, un comité scientifique et des partenaires ordinaires.
Les activitiés d'AICA comprennent:
L'information et la publication, grâce au journal en ligne Envi.info.
La promotion et l'organisation des événements.
La recherche et la formation.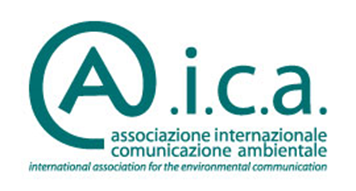 Avec l'objet de développer et de partager une nouvelle culture de la communication environnementale par une perspective internationale, AICA est membre d'un réseau d'interaction européenne qui parle de durabilité et de prévention : ACR+ (Association of Cities and Regions for Recycling and sustainable Resource management), composée par villes et régions européennes qui partagent le but de promouvoir un consomme intelligent des réseaux et une gestion circulaires des déchets.